Hi, there! Somehow there are a lot of things that I wanna share with you, and it's kinda unrelated with the random title, hoho..
Current Mood:

irritated
today.. I mean yesterday.. I saw how strong my friend is.. she struggled so hard on her final exam of her thesis.. yet the lecturers asked her to redo her exam due to minor mistake.. so she will have another exam on next week.. I knew she was upset or disappointed, even she looked calm.. where did she get that calmness!? she really become a mature lady.. tho, a friend texted me, "is she alright? she looks denied today's accident.."

I don't know..is it wrong or not if someone denied some-bad-things on their life.. but, hey! I knew is unhealthy, but this is what we called mature calmness isn't it?

my lecturer said when we were on freshman grade.. "Javanese people always hide their true feeling." or if i can say.. the Javanese always let everything gone with the wind, tho some people who can't bear it will do "ngerasani"-thingy..

even tho it's quite abnormal on global's point of view, but it's normal in Java, especially in our beloved city, Semarang.. they really smart to hide their true feeling, in which i can't do it because i'm a transparent girl with obvious expressions..

dear my beloved friend.. I know you've tried your best to do this stuff.. and you always stand firm even the storm has come.. actually Allah SWT won't give a scourge which you can't surpass it.. but if you get tired, i'm ready to lend my shoulder for you.. even tho you're a big girl who doesn't cry..

somehow i remembered about one of my friend.. she said.. "the really final battle it's not final exam of our thesis.. but how we can get a proper job.." and I.. my self.. still didn't get there.. aaah.. somebody.. please give me a courage!! i wonder how everyone can stand still but i'm not.. *sobs*

p.s. one of my friend also said maybe my crush realized that i've got an interest over him.. finally! senpai notices me!!! tho i don't know what will i do then.. rofl
*glad to be an obvious girl*
Current Mood:

exhausted
here i am.. when i supposed to edit my thesis, i make a post here =w= somehow i'm in the mood to write something on this journal.. as usual, nothing's special but my rambling..
Current Mood:

annoyed
udah lama ga nulis entry pakai bahasa indonesia.. rasanya ga jelas gini.. lagian harusnya aku garap revisian sikripkrip tapi karena girang nonton love victory barusan, jadi terdampar di LJ..wkwk.. *alesan padahal*
cuman pengen ngucapin secara geje aja.. selamat atas rilisnya single ke-41 di tahun ke -17 ini.. karena waktu anniv aku ga ngapa-ngapain, mendadag pengen nulis 17 fakta tentang seonggok cecunguk bernama wardanie dengan sebuah idol group bernama V6..
(
..how to rock someone's soul..
Collapse
)
yup.. anggap aja hari ini jadi hari besarnya V6 ma V-kura.. seharian ada promo rock your soul dan menurut info yang ada, rock your soul ada di ranking 1 daily chart oricon buat tanggal 25 desember.. moga-moga bisa bertahan sampai ke jenjang weekly..
Current Mood:

drunk
Again! this is another late post about birthday! tho i didn't forget about the day this time.. somehow RL always try to tease me.. and whose birthday are this time...
(
it's another scorpio type B's birthdays
Collapse
)
Current Mood:

crappy
(
it's a longest RL related post ever
Collapse
)
Finally!!!
I have to finish this post after all.. the last thing that I want to say tonight...
HAPPY GRADUATION!!! for my beloved
yazura
and
lovu_lovu_aiba
nee-chan!!!
Wish you have a bright patch in your future and a lot of good luck as well ~\\(>w<)//~
in this month.. my feeling was like a roller coaster.. if i could show it maybe it will look like...
Current Mood:

accomplished
Current Mood:

apathetic
finally~
I have a time to make a post here *got brick*.. teehee XD

Maybe some of you already knew that I'm into V6 now. It's been 3 or 4 months, actually. That's not mean I don't have any interest on Arashi. I'm still love Oh-chan, I do love him. My OTP on Arashi is still yama pair and still getting hyper if I see yama's moment. Though.. somehow.. it's not as deep as it used to be. Lately, I feel more hyper if I see Ino-Oka or Baka Kyoudai or Saka-Naga or Go-Ken combi's moment than yama's. That's why sometime i felt sorry to Oh-chan.

It began when I've got some V6's concerts from
flo_century (Music Mind, Ready?, and Sexy.Honey.Bunny!). After watching those concerts, I began have an interest on V6's performance in which could blow my mind in second. Their dance, the concert venue, the effects, a bunch of bonus part, tonisen's voice, kamisen's charm... those are some reason why I'm into them lately. Then, because of some personal issues, I commit that V6 is my major interest now.

About Arashi's ff projects, since it's been more than a year, so I drop those all. I'm apologize if there's someone who have been waiting for those fics. I know I'd been an irresponsible person because of that, so I'm sorry from the deepest, I didn't say that from a year ago. About the locked entries, I unlocked them all, so if you get annoy by my entries in the future, feel free to unfriend me.


That's all from me today >w<
regards,
an attention whore a.k.a sakumo114 (LOL)
Current Mood:

tired
after finished a lot of task in my rl.. i'm back to lj *yay for me* due to finish three project of mine >> Love Shuffle,, Blue Sky Pedal,, and a sequel of matsumiya fic
i know it's not an important post... but i'm really glad to know that there's a lot of people who wait for the continuation of love shuffle... i just want to say thank you for liking it and i'm sorry i couldn't write the continuation of it months ago... hahaha...
i'm also want to say thank you to my partner of Love Shuffle project
lovu_lovu_aiba
who always encourage me in my rl as well... and for
yazura
thanks for being my partner of all crime in this world *maou's laugh*... i'm glad to have both of you in my rl *sounds creepy,,but that's true,,lol*
yup! i'm back xD i wonder if somebody miss me here.. teehee... i bet the answer is no one,,rofl xD
Current Mood:

giggly
Title :
Love Shuffle (3rd week : Juntoshi Part)
Author :
sakumo114
and
lovu_lovu_aiba
Beta reader :
afrit_marid
*double hugs from me and Nophee nee-chan*
Length :
1633 words
Genre :
AU, Angst
Rating :
PG-13
Pairing :
Juntoshi, Aimiya
Disclaimer :
We own them in our dreamland
Summary :
Five cards. Many possibilities. One destiny.
Warning :
• This fic is based on a drama entitled
LOVE SHUFFLE
• This is a "
no women verse
" fic. You'll read about legal marriages between men and mpreg possibility. So, "
wife
" and "
mother
" are referring to males
Previous link :Prologue1st WEEK : Sakuraiba 2nd WEEK : Ohno
Ohmiya Junba
Jun Sakumiya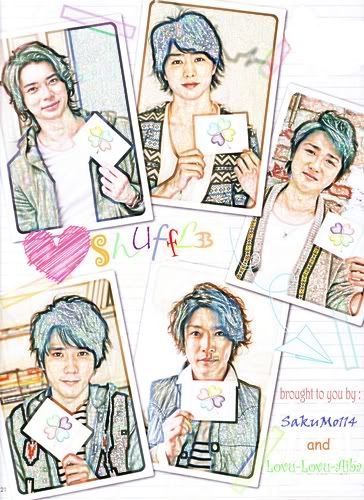 (
It's my entire fault, Ohno-san...
Collapse
)
*-*-*-*-*
AN : yay! somehow i could make it though i'm in midterm test this two weeks... thanks for nophee-chan and the shaved ice that we ate days ago LOL